NXT TakeOver War Games Predictions
NXT TakeOver War Games Predictions
Ralph and Michael make their predictions for NXT TakeOver War Games happening Saturday, November 17th on the WWE Network.
Four matches are on the card including:
Shayna Baszler vs. Kairi Saine
2 out of 3 Falls Match for the NXT Women's Championship
Ralph's Pick: Shayna Baszler
I don't see them playing 'Hot Potato' with the NXT Women's Title. I think the two members of the Four Horsewomen (Marina Shafir and Jessiman Duke) that they introduced at WWE Evolution will play a role in the win.
Michael's Pick: Shayna Baszler
The story they are telling is that Kairi Saine has won 2 of their 3 encounters. She won the Mae Young Class Final last year and the NXT Women's Championship at NXT TakeOver Brooklyn 4 before losing to Baszler at WWE Evolution. The score right now is 2-1 in favor of Saine. With Baszler winning, she will in the best of 5 series 3-2 and retain the championship. Shayna will most likely hold it until she drops it before going to the main roster.
Aleister Black vs. Johnny Gargano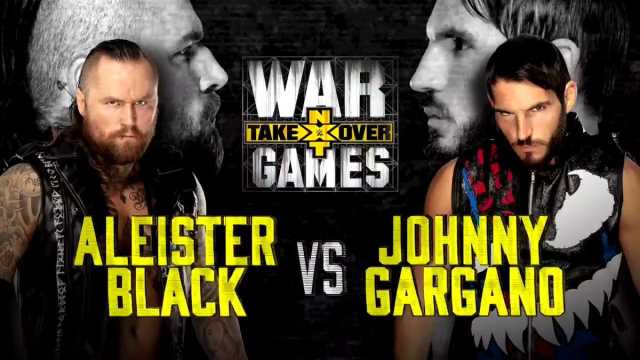 Ralph's Pick: Johnny Gargano
Gargano is going to win in some chicken shit heel fashion. Eventually Black will win a rematch and get his retribution further down the line.
Michael's Pick: Aleister Black
This is a short-term feud. Gargano will go on to eventually face Tommaso Ciampa Wrestlemania weekend for the NXT Championship. This is going to be Black's last match in NXT in my opinion. There hasn't been any big call ups this year except for Wrestlemania weekend. I think now is the time for someone to come up. I think Black is that guy after finishing this feud with Gargano.
Tomasso Ciampa vs. Velveteen Dream
NXT Championship
Ralph's Pick: Tomasso Ciampa
The fans are going to be hot for the Dream and they're going to want to see a title change, but if they do in fact put the belt on him it's not going to be here.
Michael's Pick: Tomasso Ciampa
As mentioned already, the story down the line is the pay-off of Gargano vs. Ciampa in Brooklyn Wrestlemania weekend. Velveteen Dream could be the one that gets called up next, but I think before he does he needs to string some TakeOver wins which he hasn't done yet. He still has another year that happens I think.
Undisputed Era vs. Pete Dunne, Ricochet and the War Raiders
War Games Match
Ralph's Pick: Pete Dunne, Ricochet and the War Raiders
I don't really see a heels sweep for a pay per view. This is going to be a great match, but
Michael's Pick: Undisputed Era
As I already mentioned, there will be a call up this week. I think Black, but this may be the time for the Un